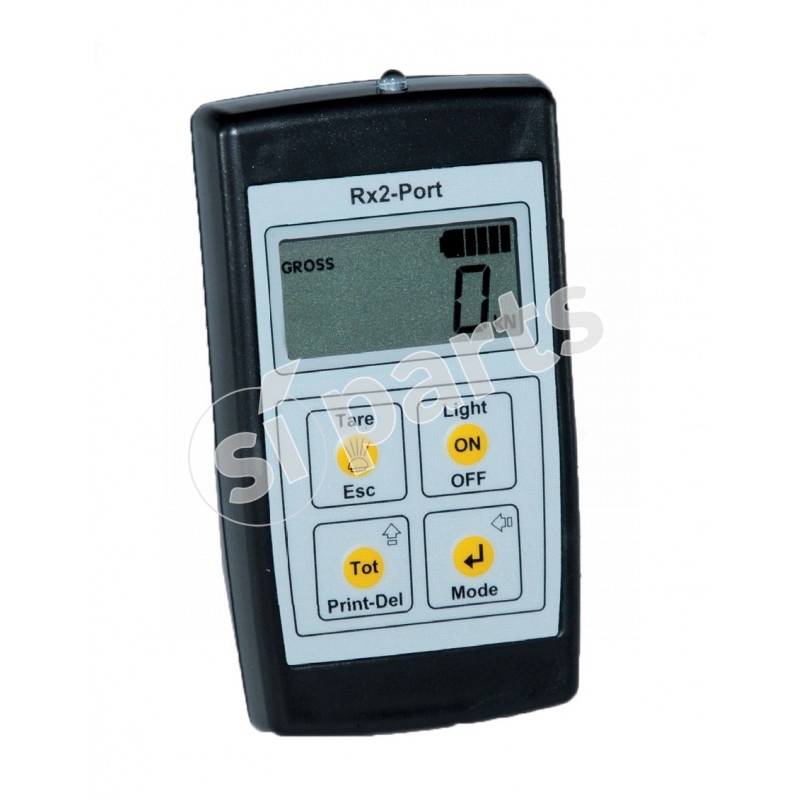  
Multi-channel RXDI02 PORT handheld
New Code: 0000028
CONTACT US FOR MORE INFORMATION
SSL 100% secure website

Fast shipping with national and international couriers

Original articles, guaranteed.
Description
Multi-channel RXDI02 PORT handheld
RXDI02 PORT is an hand receiver instrument which can receive 433,92 and 868 MHz frequencies. This receiver is equipped with a numeric LED display 5 digits (12mm height) and with a 4 mechanical buttons keyboard for the parameters setup and the operational functioning., which provides the function of totalization of the measures. It's also available the RS232 communication interface.

CONNECTIONS
SERIAL TXD
SERIAL GND
Supply
No. 3 "AA" type batteries
Operating temperature
-10 ° C / + 50 ° C (max 85% humidity without condensation)
Storage temperature
-20°C / +60°C
Weight display
Numeric with 5 digit lcd 7-segment (h = 12 mm)
Keyboard
4-key multi-function with totalisation
Overall dimensions
68mm x 110mm x 31mm (l x h x p)
Container material
Plastic
Degree of frontal protection
IP64
Input sensitivity
1 μV min.
Linearity
<0.08% of the full scale
Drift in temperature
<0.01% of full scale / °C
Internal resolution
16 bit
Weight acquisition frequency
2 Hz
Digital filter
Selectable 0.1 Hz - 2 Hz
Reception frequency
selectable multichannel on reference frequency 868, 3 MHz
Serial port
Rs232 in transmission
Compliance with regulations
EN6100-6-3, EN61000-6-2, EN61010-1
Components for access platforms telescopic - cranes
Trucks tractors - trailers
Fire fighting - rescue vehicles
Motorcycles - quad components
Electric vehicles - golf cart
Can-bus boat global control system
Ambulances - emergency vehicles