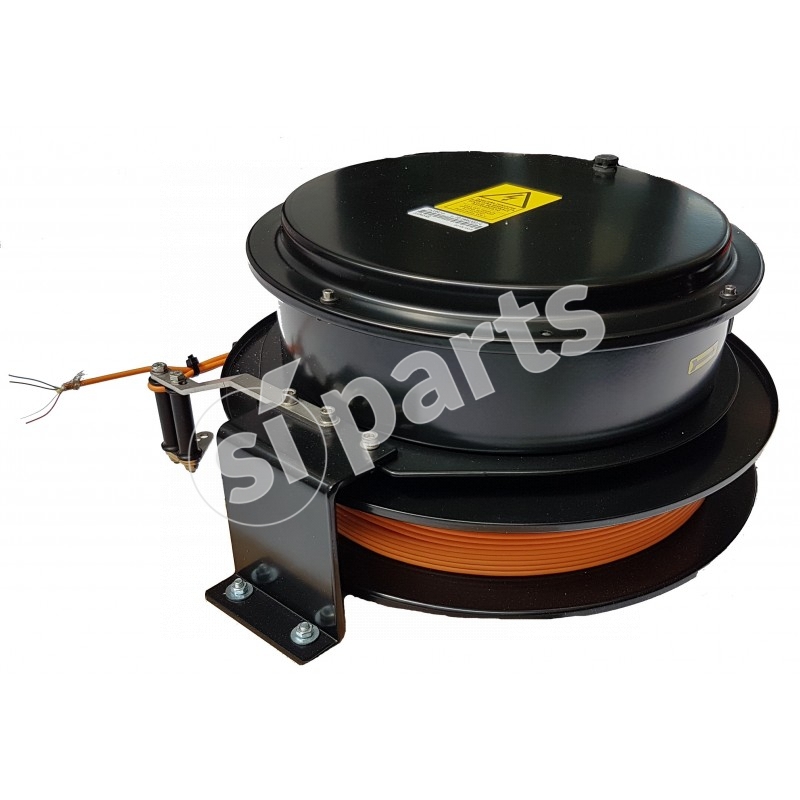  
CABLE REEL 32(50) MT AC MCP214 2P + SRC 2CH 5P (W) DR

SAP code: 1034534
CONTACT US FOR MORE INFORMATION
AC MCP CABLE REEL 2P+SRC-2P2A
AC MCP cable reel 
i
s a product for length measuring from 32 to 50 mt. Its mechanical design has been studied for harsh environments and long endurance, typical of telescopic boom cranes. It is a basic part of a safety system, thanks to its high MTTF value, and it has different sensor configurations for different applications. Versions available with slip ring collector for additional electrical signals transportation. 
Typical applications are boom length measurement for medium and big crabe size.

SCR-2P2A: new SCR series is equipped with a microprocessor card, with its own safety inputs/outputs, that collects all signals useful to manage boom position (like end switches for example) and sends them via CAN bus to main control system. It allows also "daisy chain" connection between cable reels, simplifying a lot cablings. Model 2P2A is equipped with additional fully redundant length and angle sensor, and it can be used in EN13849 certified systems.
Technical specifications
Slip-ring
Available 15 A gold plated slip-ring
Number of way: 4
Rated current: 15A
Operating temperature: - 20 + 70°C (-4 .. +158 °F)
Electrical wire
Description: 26 AWG bare copper strand, heavy duty kevlar
reinforced cable
Wire gauge: 0.14 mm2 (26 AWG)
Insulating material: thermoplastic solid polypropilene
Internal wires color: blue, white, red, brown
Outer jacket color: orange
Shield: tinned copper braid, (shielding 85 -90%)
Jacket material: thermoplastic PUR/other base polymer (TPE-U) resistant to oil, hydrolisis and abrasion with MATT surface
External nominal diameter: 4.1 ±0.1 mm
Electrical resistance @ 20 °C (68 °F): <148 ohm> Test voltage: 1000 V
Nominal voltage: 50 V
Minimum bending radius: 42 mm
Operating temperature: - 40 .. +80 °C (-40 .. +176 °F)
Minimum breaking strength: 40 Kg
Additional resources
(*1)
3 analogue inputs with 0 .. 5 V voltage range, 12 bit resolution
3 analogue inputs with 0 .. 30 V voltage range, 12 bit resolution
1 RPM input, high side type
1 auxiliary output 15 V 100 mA
(*2)
2 analogue inputs with 0 .. 5 V voltage range, 12 bit resolution
MEASURING RANGE
32 .. 50 m
CONNECTION
WIRE TERMINAL BLOCK
B10D
>= 2.8*10^4 cycles 0 ..100% FS
LENGTH SENSOR DETAIL
2 x 0 .. 2 kOhm potentiometer
POTENTIOMETER LINEARITY
0.15%
POTENTIOMETER TOLLERANCE
5%
POTENTIOMETER TEMPCO
20 ppm / °C
MAX OUTPUT CABLE SPEED
30 m/s
ADDITIONAL RESOURCES OPTION
Yes *1
SEALING ACCORDIN TO DIN40050
IP65
TEMPERATURA D'IMPIEGO °C
-20 .. +70 °C -4 .. +158 °F optional -40 .. +70 °C -40 .. +158 °F
STORAGE TEMPERATURE
-40 .. +85 °C -40 .. 185°F
VIBRATION ENDURANCE TO EN 60068-2-6
10 .. 500 Hz, @ 98 m/s2, amplitude ±7.5 mm, 2h for each axis
MECHANICAL SHOCK ENDURANCE TO EN 60068-2-7
25 g for 6 ms semisinusoidal, 4000 positive and 4000 negative pulses
CERTIFICATIONS
EN61000-6-2, -4
WEIGHT
Aprox 23 kg for 32 m version, to aprox 40 kg for 50 m version
POWER SUPPLY VOLTAGE V
9 .. 32 V DC
CURRENT CONSUMPTION
36 mA @ 24V DC, 50 mA @ 12V DC
CONNECTIVITY
1 CAN bus interface,CAN 2.0B high speed,ISO 11898-2 compliant, termination resistor selectable
CAN BAUD RATE
programmable 50, 100, 125, 250, 500 Kbit/s
CAN IDENTIFIER
programmable 11 or 29 bit
ZERO ANGLE REFERENCE
freely programmable
ACCURACY
±0.15° @ 25 °C +77 °F, ±0.30° over the Operating temperature
THERMAL DRIFT
±0.0033 deg / °C
MEAN TIME TO FAILURE MTTF
100 years only for the electron ics
CAMPO MISURA - INCLINOMETRO °
0 .. 360 °
APPLIED STANDARD
The products comply with the requirements of the relevant standards PL d acc. To EN ISO 13849-1 and SIL CL 2 acc. To EN 62061 and can be used in applications up to PL d acc. To EN ISO 13849-1 and SIL 2 acc. To EN 62061
Components for access platforms telescopic - cranes
Trucks tractors - trailers
Fire fighting - rescue vehicles
Motorcycles - quad components
Electric vehicles - golf cart
Can-bus boat global control system
Ambulances - emergency vehicles