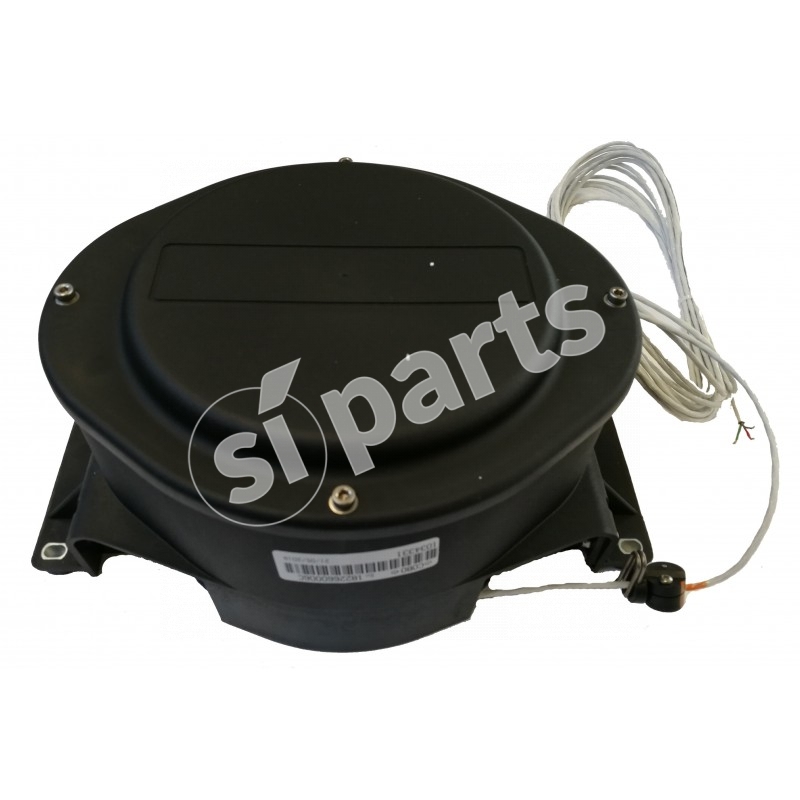  
CABLE REEL 8(17) MT ACQ 2P + 2 AMU AN.CB+ CON. 3P CCW SX TXI_013

SAP code: 1034331
CONTACT US FOR MORE INFORMATION
SSL 100% secure website

Fast shipping with national and international couriers

Original articles, guaranteed.
CABLE REEL ACQ 2P2A + CON 3P 

Cable reel ACQ 2P2A + CON 3P is a system for the measurement of extensions from 8 to 12 meters (ACQ) and 17 meters (ACR). Its mechanics is designed for heavy and repeated uses, typical of telescopic boom cranes. An integral part of the machine safety system, with its high level of MTTF, it has different internal sensor configurations for different applications. They can be equipped with a rotating collector for the transport of one or more electrical signals, ideal for the installation of limit switches in the arm tip. Typical applications: measurement of length and inclination of the boom for small cranes, first extension of large cranes or telehandlers.

CABLE REEL 2P2A + CON 3P: equipped with double length sensor (potentiometer) and a double inclinometer (accelerometer) with CAN bus output, to reduce the number of wires and to increase measure accuracy even with high distances or analogue output, for an easy integration in any system. Then it can be used to measure oth boom length and inclination with a single sensor, and it is totally redundant, in order to be applied into system that require EN13849 safety standard. Version with 3-poles slip ring collector.

Slip-ring
Available 2A gold plated slip-ring
Number of way: 2,3,6,8
Rated current: 2 A / ring
Rated voltage: 240V AC/DC
Lead Size: AWG26, color coded, FEP insulated, silver plated copper
Dielectric strength: 500V AC @ 50 Hz
Insulation resistance: 1000 MOhm @ 500V DC
Equivalent electrical noise: < 0.01 Ù
Maximum operating speed: 300 rpm
Operating temperature: -20 .. +80 °C (-4 .. +176 °F)

Electrical wire
Description: 24 AWG tinned copper wire
Wire gauge: 0.24 mm2
Insulating material: ETFE
Color: Red, Green, Grey
Shield: tinned copper braid, (shielding 85 - 90%)
Jacket material: ETFE
External nominal diameter: 2.85 ±0.12 mm
Electrical resistance @ 20 °C (68 °F): < 88.5 Ohm / Km
Test voltage: 1500 V
Nominal voltage: 600 V
Minimum bending radius: 30 mm
Operating temperature: - 40 .. +120 °C (- 40 .. +248°F)
Minimum breaking strength: 10 Kg
OUTPUT SIGNAL
resistance 0 .. 2 kOhm
B10D
>= 3.0*10^4 cycles 0 .. 100% FS
LENGTH SENSOR DETAIL
1 x 0 .. 2 kOhm potentiometer
POTENTIOMETER LINEARITY
0.15%
POTENTIOMETER TOLLERANCE
5%
MAXIMUM POWER DISSIPATION
2.0 W @ 25 °C +77 °F
MAXIMUM MEASUREMENT CURRENT
50 mA @ 25 °C +77 °F
POTENTIOMETER TEMPCO
20 ppm / °C
MAX OUTPUT CABLE SPEED
30 m/s
SEALING ACCORDIN TO DIN40050
IP65
TEMPERATURA D'IMPIEGO °C
-20 .. +70 °C -4 .. +158 °F optional -40 .. +70 °C -40 .. +158 °F
STORAGE TEMPERATURE
-40 .. +85 °C -40 .. +185 °F
VIBRATION ENDURANCE TO EN 60068-2-6
10 .. 500 Hz, @ 98 m/s2 amplitude ±7.5 mm, 2h for each axis
MECHANICAL SHOCK ENDURANCE TO EN 60068-2-7
25 g for 6 ms semisinusoidal, 4000 positive and 4000 negative pulses
CERTIFICATIONS
EN61000-6-2, -4
HOUSING MATERIAL
Nylon PA6 30% glass fiber filled
Components for access platforms telescopic - cranes
Trucks tractors - trailers
Fire fighting - rescue vehicles
Motorcycles - quad components
Electric vehicles - golf cart
Can-bus boat global control system
Ambulances - emergency vehicles