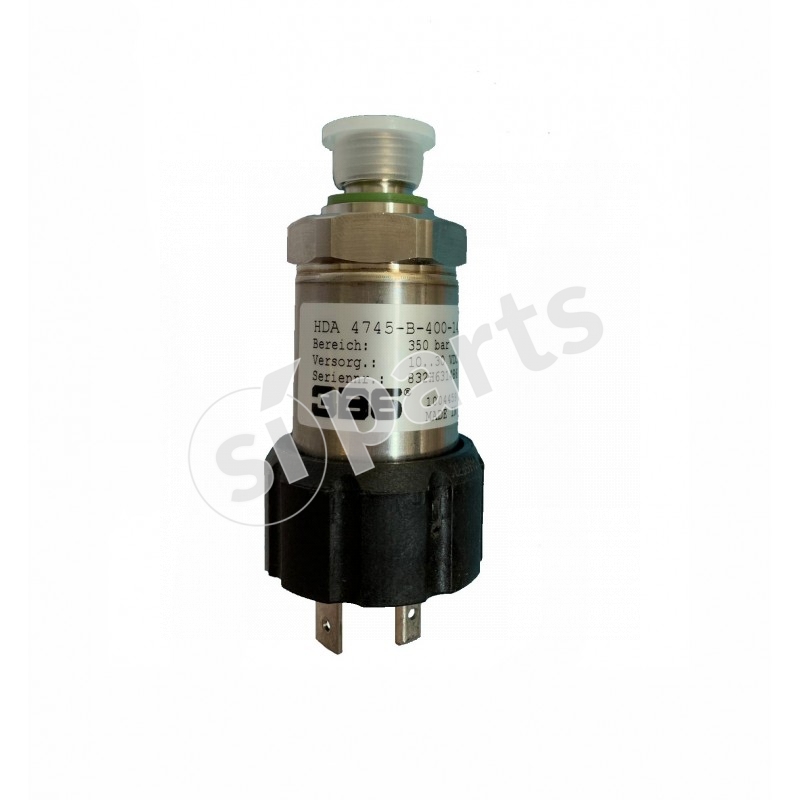  
PRESSURE TRANSDUCER 350 BAR

SAP code: 1004459
CONTACT US FOR MORE INFORMATION
SSL 100% secure website

Fast shipping with national and international couriers

Original articles, guaranteed.
PRESSURE TRANSDUCER 350 BAR 
The structure of the 4700 pressure transducer is characterized by small dimensions and high mechanical strength; it is composed of instruments designed specifically for industrial OEM applications and is indispensable when accuracy, repeatability, and stability of measurement are necessary. This pressure transducer uses a thin film sensor, resistant to mechanical shocks. It maintains measurement accuracy in a very wide temperature range, in extreme dynamic conditions, and in hostile environments.
| MEASURING RANGE (BAR) | OVERLOAD PRESSURES (BAR) | BURST PRESSURE (BAR) |
| --- | --- | --- |
| 200 | 500 | 1000 |
| 250 | 500 | 1000 |
| 300 | 800 | 2000 |
| 350 | 800 | 2000 |
| 400 | 800 | 2000 |
| 450 | 900 | 2000 |
| 600 | 900 | 2000 |

MECHANICAL CONNECTION
G1/4A DIN 3852
TYPE CONNECTION
Binder series 714 M18, 3 pole
DIN43650 male, 3 pole + PE
AMP DIN72585, 3 pole
Deutsch DT04-3P 3 pole
AMP Super Seal 3 pole
OUTPUT SIGNAL
ANALOGUE, VOLTAGE TYPE 0.5 .. 5.5 V, 3 CONDUCTOR
ACCURACY TO DIN 16086
<= ±0.25% FS typ , <= ±0.5% FS max
HYSTERESIS
<= ± 0.1% FS max 0.1% FS max
RIPETIBILITÀ
<= ± 0.05% FS max
TEMPERATURA D'IMPIEGO °C
-40 .. +85 °C -40 .. +185 °F
STORAGE TEMPERATURE
-40 .. +100 °C -40 .. +212 °F
SEALING ACCORDIN TO DIN40050
IP65 DIN43650 CONNECTOR,
IP67 DIN72585 CONNECTOR
POWER SUPPLY VOLTAGE V
12 .. 30 V DC
CURRENT CONSUMPTION
25 mA
CERTIFICATIONS
EN61000-6-1, -2, -3, -4
MEAN TIME TO FAILURE MTTF
> 170 years
B10D
> 10^6 cycles 0 .. 100% FS
Components for access platforms telescopic - cranes
Trucks tractors - trailers
Fire fighting - rescue vehicles
Motorcycles - quad components
Electric vehicles - golf cart
Can-bus boat global control system
Ambulances - emergency vehicles