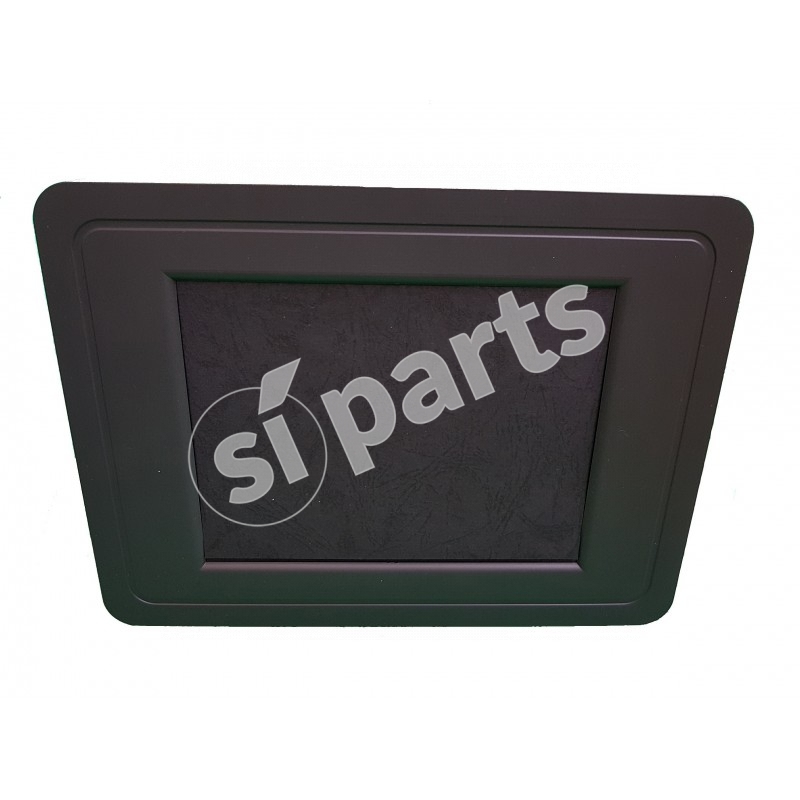  
TERA 8 OUT DASH DISPLAY

NEW Code: 1076193
CONTACT US FOR MORE INFORMATION
SSL 100% secure website

Fast shipping with national and international couriers

Original articles, guaranteed.
Description
TERA 8 is a monitor with a SVGA (800x600) 8.4" display with LED technology and 32 bit ARM processor. It is equipped with a waterproof Glass-on-Glass scratchproof touchscreen. It has been designed to meet the harsh environment requests of any mobile machines using a CAN BUS network. Based on Linux OS, TERA8 is the ideal HMI solution for any HI-END application. It manages also low power stand-by mode. It is provided with two PAL/NTSC video camera input, USB port, Ethernet, and an additional USB and SD slot accessible from the case. TERA8 is fully programmable using VT3 software development tool, COBO proprietary IDE, that combines intuitive WYSIWYG graphic programming with IEC61131 standard. TERA8 can be installed both in-dash or out-dash with its specific articulated support.
APPLICATIONS
- Dashboard for telescopic or lattice boom cranes
- Big size access platforms
- Monitoring device for boats
- Agriculture tractors
- Buses
- Airport equipment
- Road cleaning machines
POWER SUPPLY VOLTAGE V
9 - 30V
ABSORBED CURRENT
1.2A max at 12V
MODALITÀ STAND-BY MODE A BASSO CONSUMO
PROGRAMMABLE VIA SOFTWARE
OPERATING TEMPERATURE
- 20° C ÷ + 70° C - 4° F ÷ + 158° F
STORAGE TEMPERATURE
- 35° C ÷ + 85° C - 31° F ÷ +185° F
TFT DISPLAY
ACTIVE MATRIX TFT COLOUR DISPLAY, STANDARD SVGA, 262K COLOURS, 8,4
- Risoluzione: 800 x 600 pixel; dot pitch 0,3075 mm
- DISPLAY AREA: 170,4 X 127,8 MM
- CONTRAST RATIO: 600:1
- Luminosità: 450 cdm
- Angolo di visualizzazione: orizzontale: 80°, verticale zona superiore: 65°, verticale zona inferiore: 75°
- BACKLIGHT: WHITE LED
CONTROL SYSTEM
- Microprocessor core ARM, 32bit, 400 MHz
- RAM memory 128 MB DDR
- Flash memory 128 MB
- Flash memory 4 MB for Bootloader
- Internal Watchdog
- Real Time Clock
- Internal memory expansion up to 4GB SD card
- Operating System: Linux Embedded boot time 5 sec
CONNECTIVITY
- 2 CAN bus, CAN2.0B 11 or 29 bit compliant to ISO 11898-2, speed up to 1 Mbit/s. Standards available: CAN-Open,SAE J1939, ISO 11783 ISOBUS
- 1 serial port RS232 full UART, 16C550 compatible
- 1 serial port RS232 TX/RX
- Resistive touch-screen glass-on-glass technology
- 1 USB port on rear connector + 1 USB port on panel side
- 1 Ethernet port 10/100 Mbps
- 1 slot SD on panel side
- 2 video input PAL/NTSC
- 1 buzzer
Components for access platforms telescopic - cranes
Trucks tractors - trailers
Fire fighting - rescue vehicles
Motorcycles - quad components
Electric vehicles - golf cart
Can-bus boat global control system
Ambulances - emergency vehicles